Industry Automatic Energy-saving Oxygen Concentrator use pressure swing adsorption (PSA) technology. Industry Oxygen Concentrator are widely used in place where liquid or pressurized oxygen is too dangerous or inconvenient. Automatic Oxygen Concentrator is also used to provide an economical source of oxygen in industrial processes. In these fields, we often use the name of oxygen gas generators or oxygen generation plants. This machine utilize zeolite molecular sieve to adsorb gases and operate on the principle of pressure swing adsorption. Energy-saving Oxygen Concentrator absorb atmospheric nitrogen onto zeolite minerals and the not adsorbed gas, oxygen, is sent out as product gas. Its principle is as photo below: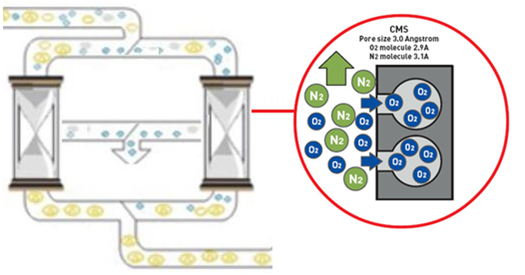 Industry Automatic Energy-saving Oxygen Concentrator Specification:
Oxygen flow: 1-200 Nm3/hr
Oxygen purity: 90-95%
Outlet pressure: 5-200 bars
Industry Automatic Energy-saving Oxygen Concentrator process flow
This system adapts patent processing flow of adsorber top gas inlet, bottom gas outlet, unequal pressure balancing, desorption at the middle. It has advantages of low air consumption and long lifetime molecular sieve, etc.
PSA Process flow description
Adsorption
There are two adsorbers with Zeolite molecular sieve. When cleaning compressed air enters the gas inlet of adsorber A, it flows to outlet, passing through Zeolite molecular sieve, N2.CO2 and H2O are adsorbed, produced oxygen goes out of adsorber outlet.
Desorption
After some time, the Zeolite molecular sieve in adsorber A is adsorb-saturated. Compressed air is switched to adsorber B to adsorb N2 and produce O2, at the same time, Zeolite molecular sieve in adsorber A desorbs and regenerates itself. The desorption of molecular sieve is realized by vent valve. When empty air in adsorbers, the pressure inside quickly drops down to normal pressure and the adsorbed N2.CO2.H2O are desorbed.
Blowing
To thoroughly regenerate Zeolite molecular sieve, product oxygen from adsorber outlet or oxygen buffer tank is used to blow out the remaining N2.CO2.H2O of adsorbers.
Pressure equalization
Before the switch between two adsorbers, there is a process of pressure equalization, it is used to promptly increase adsorption pressure and oxygen rate of recovery. Pressure equalization means connecting two adsorbers, let gas in one adsorber(to be desorbed) enter the other one(to be adsorb), then the two adsorbers can have equal pressure.
This system adapts unequal pressure equalization process, the oxygen rate of recovery is further improved, which reduces the energy consumption of the whole system.
Circulation
Two adsorbers alternately adsorb, pressure equalize and regenerate to separate oxygen and nitrogen, this process constantly produces oxygen.
Industry Automatic Energy-saving Oxygen Concentrator Photos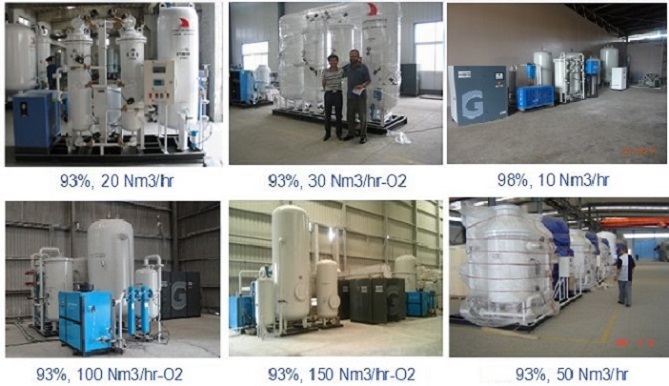 Looking for ideal Industry Oxygen Concentrator Manufacturer & supplier ? We have a wide selection at great prices to help you get creative. All the Automatic Oxygen Concentrator are quality guaranteed. We are China Origin Factory of Energy-saving Oxygen Concentrator. If you have any question, please feel free to contact us.
Product Categories : Oxygen Concentrator