Gamma 99% Purity Medical Oxygen Generator is used to produce oxygen with purity up to 99%. It is the combination of standard 93% purity Oxygen Generator with one oxygen purifier. Detailed parts combination is as below: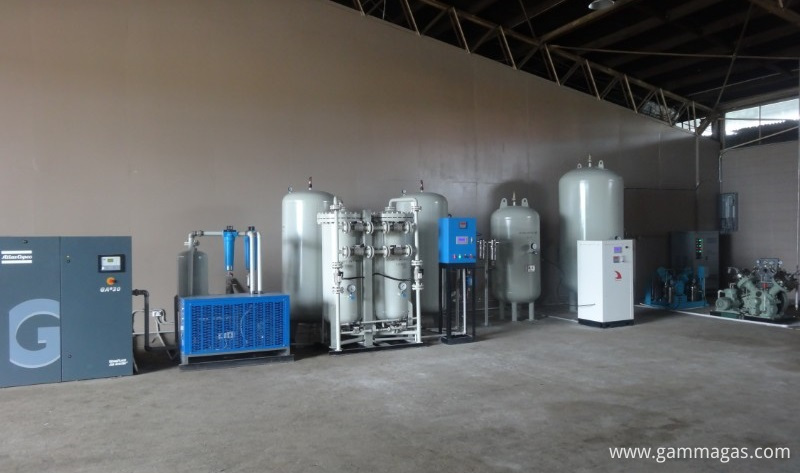 Function: provide compressed air source for the PSA oxygen generator, the flow and pressure are to be decided by the desired oxygen flow rate, purity, outlet pressure. As it is the air source of whole system, the performance of air compressor has remarkable influence to the whole oxygen generator system. Air source must be stable, sufficient with pressure not less than 7.5 bars.
Compressed air treatment part
Function: get rid of water, oil, impurities in compressed air coming from the air compressor, providing clean, dry, oil-free compressed air for the PSA oxygen generation part. It includes 3 filters, 1 refrigerated dryer and 1 activated carbon oil remover. After treatment, dew point of compressed air can reach -20 degree (normal pressure) , dust content is not larger than 0.01mg/m3, solid particles diameter is not larger than 0.01μ, oil mist content is not more than 0.003mg/m3.
Air tank
Air tank function:
It quickly increases the pressure of adsorber;
It also stores gas for air compressor, buffers system pressure;
PSA oxygen generation part
Function:
It is the key part of whole system. In this part, the oxygen is separated from compressed air, sent to buffer tank as produced gas. Nitrogen, carbon dioxide, argon,etc are discharge from muffler as exhausted gases. The efficiency of this machine is mainly decided by adsorption tower structure, air distribution structure, molecular molecular sieve performance, process flow, etc.
O2 buffer tank
O2 buffer tank function:
It balances pressure fluctuation, ensure stable oxygen supply;
With oxygen re-blowing system, the O2 buffer tank can also quickly increases the pressure of adsorption towers.
PSA oxygen storage tank 1
Function:
To help the performance of oxygen purifier, one oxygen storage tank is supplied.
Oxygen purifier
Function:
This is another key part for the high purity oxygen generator. After its treatment, 99% purity oxygen is achieved.
Oxygen storage tank 2
Function:
After treatment of oxygen purifier, the 98% purity oxygen has very low pressure, for getting higher pressure, another oxygen storage tank is supplied.
Oxygen Compressor
Function:
As the 99% purity oxygen pressure is very slow, to get 150 bars pressure, one oxygen compressor is needed.
Oxygen filling station
Function
It is used to fill the high pressure oxygen into cylinders for storage or selling.
High purity Medical Oxygen Generator specification:
Oxygen purity: 99%
Oxygen flow rate: 5-100 Nm3/Hr
Oxygen outlet perssure: 5-200 bars